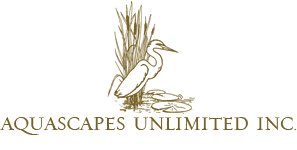 Native Wetland Plants
Native plants are always the best choice for use in landscapes, restoration projects, storm water projects, and naturalized areas. Aquascapes Unlimited's seed sown local ecotype species add natural wildlife benefits, promote biodiversity, and oftentimes require less maintenance in terms of fertilizers and pesticides. Plug trays can be shipped via UPS.
A Wetland Planting Guide is available in the "About us" portion of the website.
Common Name: Panic grass

Panicum virgatum, Panic grass, is a colonizing perennial grass that grows in large clumps 3-6' tall with sturdy, flat, glossy leaf blades. When used in prairies and bottomland sites, Panic grass develops lon...
---
Common Name: Arrow arum

Peltandra virginica, Arrow arum, grows in still or slow moving waters of ponds, swamps, marshes, and banks of streams. The remarkable broad arrow headed leaves with wavy margins reach 2-4' tall in full sun to sha...
---
Common Name: Northern frogfruit

Phyla lanceolata, Northern Frogfruit, is found in wet soils and is particularly common in moist forests, stream banks, and along the shores of rivers and lakes. Its square stem grows from 6"-2'.  Small white flowers of Phyla...
---
Common Name: Obedient plant

Physostegia virginiana, Obedient plant, gets its name from an unusual trait, when you turn the flowers by pushing them sideways, they stay there. Pink forms are more common, but a white form is shown here. The plant's...
---
Common Name: Water Smartweed

Polygonum amphibium, Water Smartweed, is a sprawling perennial with willow-like leaves, reddish stems, and clusters of small flowers found in shallow water along the margins of lakes, ponds, and streams. The rhizomes of Polygonum a...
---
Common Name: Pickerelweed

Pontederia cordata, Pickerelweed, is a common sight in quiet fresh water areas. Shallow water is the habitat for this beautiful species. The native forms are usually shades of blue-purple, but we also have the uncommon white f...
---
Common Name: Water Mermaid

Proserpinaca palustris, water Mermaid, is a native perennial found in swamps, marshes, shores, and  ephemeral woodland ponds. When above the waterline, Water Mermaid exhibits leaves that resemble rosemary with serrated ed...