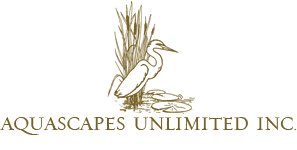 Ornamental Aquatics
Ornamental Aquatics include native and non-native hardy perennials as well as selected tropical aquatics intended for use in water gardens and water features. Many non-native and tropical aquatics are aggressive in their growth habit and are NOT recommended for use in earth bottom ponds or natural areas.
Common Name: variegated sweetflag

Acorus calamus 'variegatus' - variegated sweetflag is hardy in zones 5-11. Variegated sweetflag has aromatic foliage and is similar to Iris in shape, but it is unpalatable to geese and deer. Variegat...
---
Common Name: dwarf variegated sweetflag

Similar in appearance to Acorus calamus variegatus but smaller in size and spreading less vigorously, dwarf variegated sweetflag, is a perfect choice when shorter vertical accents are needed along the pond edge. This clumping ornamental has varieg...
---
Common Name: Giant reed grass

Hardy in Zones 5-11, Arundo donax is usually sought after for its tropical looking foliage and taller stature - up to 20'. The flowers are large 2 foot panicles with silvery plumes which turn beige and can last well into ...
---
Common Name: Variegated giant reed grass

Hardy in Zones 6-11, Arundo donax variegata is usually sought after for its white & green foliage which  gives a bamboo like tropical effect. The variegated species is shorter than the pure green Arundo donax, making ...
---
Common Name: Swamp milkweed

Asclepias incarnata, Swamp milkweed, is a decorative and essential perennial to any moist full sun habitat, pale pink blossoms explode with color from late June thru August. Standing 2-4' tall Asclepias incarnat...