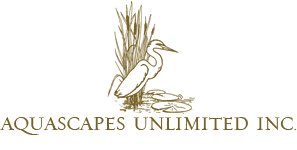 Native Wetland Plants
Native plants are always the best choice for use in landscapes, restoration projects, storm water projects, and naturalized areas. Aquascapes Unlimited's seed sown local ecotype species add natural wildlife benefits, promote biodiversity, and oftentimes require less maintenance in terms of fertilizers and pesticides. Plug trays can be shipped via UPS.
A Wetland Planting Guide is available in the "About us" portion of the website.
Common Name: Water willow

Decodon verticillatus, Water willow, is a perennial herb with a woody base at the bottom of its arching leafy stems. Decodon verticillatus is often found on the edges of standing water, lazy streams or marshy swamp...
---
Common Name: Three way sedge

Dulichium arundinaceum, Three way sedge,  is one of the easier to identify sedges.  Looking straight down on the plant, leaves growing in ranks of three are visible.  The upright stems growing...