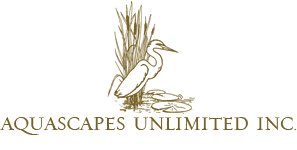 Native Wetland Plants
Native plants are always the best choice for use in landscapes, restoration projects, storm water projects, and naturalized areas. Aquascapes Unlimited's seed sown local ecotype species add natural wildlife benefits, promote biodiversity, and oftentimes require less maintenance in terms of fertilizers and pesticides. Plug trays can be shipped via UPS.
A Wetland Planting Guide is available in the "About us" portion of the website.
Common Name: Cananda bluejoint

Calamagrostis canadensis, Canada bluejoint,  is one of our cool season grasses. Canada bluejoint is found growing strong along pond shores and in open wet meadows of New England. It forms slender inflorescence in June whi...
---
Common Name: Marsh marigold

Caltha palustris, Marsh marigold, is one of the earliest blooming spring ephemerals in a wetland. Marsh marigold's heart shaped shiny foliage emerges in March and almost overnight is topped with bright yellow buttercup li...
---
Common Name: Bristly sedge

Carex comosa, Bristly sedge, is a member of the sedge family has a bristly bloom that acts like Velcro.  Bristly sedge stands from 1-2 ½' tall with wide light green foliage. It prefers full sun bu...
---
Common Name: Fringed sedge

Carex crinata, Fringed sedge, is a common sedge of cooler northern climates.  Fringed sedge is named for its slender drooping seed heads that are present from June through July. It stands at 3-4' tall....
---
Common Name: Gray's Sedge

This clump forming bold textured sedge has medium green foliage and a decorative seed head resembling medieval weaponry. It is commonly found in shady moist habitat and is perfect for a woodland water garden.

...
---
Common Name: Porcupine sedge

Carex hystericina, Porcupine sedge, is named for its spiky seed head which resembles a porcupine.  Porcupine sedge spreads moderately from short rhizomes in full sun to partial shade. Its foliage is light green i...
---
Common Name: Bladder sedge

Carex intumescens, Bladder sedge, is similar in appearance to Carex grayi, found growing in shady bottomland hardwood forests. Its bold textured foliage stands 1-2' tall.

...
---
Common Name: Lake bank sedge

Carex lacustris, Lake bank sedge, is a rapidly spreading rhizomatous plant and a great soil stabilizer for an area with full sun. Lake bank sedge has very upright blue-green foliage and blooms in early to mid summer. G...
---
Common Name: Hop sedge

Carex lupulina, Hop sedge,  is a tall, shade tolerant sedge that has similar but longer seed heads than Carex intumescens.  Hop sedge has a clump forming erect stature that makes it a nice...
---
Common Name: Lurid sedge

Carex lurida, Lurid sedge, is a versatile lower growing sedge that forms dense tufted colonies in full sun and loose patches in the shade. Carex lurida is a great plant for soil stabilization along pond and stream banks...
---
Common Name: Musk sedge

Carex muskingumensis, musk sedge, is found in moist meadows and along streams.  Decorative musk sedge resembles miniature palm trees. It spreads slowly via a short rhizome to form a fine textured c...
---
Common Name: Pointed broom sedge

Carex scoparia, Pointed broom sedge, is an attractive clumping sedge with fine textured foliage.  Pointed broom sedge grows 1-2' tall and provides great food and cover for song birds in wet meadow habitats.  Poin...
---
Common Name: Tussock sedge

Carex stricta, Tussock sedge,  is one of the most elegant, fine textured sedges.  Tussock sedge gracefully arches giving it the appearance of fountain grass. It will form dense tussocks rising above the waterline. Tussock s...
---
Common Name: Fox sedge

Carex vulpinoidea, Fox sedge, is aptly named for its fox tail like seed head.   Fox sedge, is a tough versatile plant that lends itself well to most wetland restoration projects. Like Tussock sedge, Fox sedge has...
---
Common Name: Buttonbush

Cephalanthus occidentalis, Buttonbush,  is one of the most important native shrubs for helping to preserve water quality and for enhancing wildlife habitat. The extensive fibrous root system of buttonbush pulls nutrie...
---
Common Name: Northern sea oats

Chasmanthium latifolium, Northern sea oats.  Despite its name, Northern sea oats, has nothing to do with the sea.  Chasmanthium latifolium grows well in a variety of soils with varying moisture...
---
Common Name: White turtle head

Chelone glabra, White turtle head, is a deer resistant perennial perfect for shaded or woodland gardens with moist soil.  Striking white snapdragon like flowers are a great addition to the garden in late...
---
Common Name: Wood reedgrass

Cinna arundinacea, Wood reedgrass, is a strong competitor against Japanese stilt grass! The attractive Wood reedgrass grows well in fertile moist soil with light shade or dappled sunlight. Most growth occurs during the Summ...
---
Common Name: Nutsedge

Cyperus esculentus, Nutsedge, is often mistaken as a grass.  Nutsedge has light green to yellow shiny leaves which arise in groups of 3 from the base of the plant and taper gradually to a pointed tip.  The 3 sided stem...