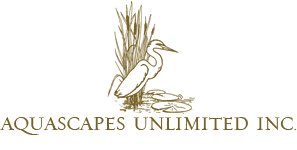 Native Wetland Plants
Native plants are always the best choice for use in landscapes, restoration projects, storm water projects, and naturalized areas. Aquascapes Unlimited's seed sown local ecotype species add natural wildlife benefits, promote biodiversity, and oftentimes require less maintenance in terms of fertilizers and pesticides. Plug trays can be shipped via UPS.
A Wetland Planting Guide is available in the "About us" portion of the website.
Common Name: Canada Manna Grass

Glyceria canadensis, Canada Manna Grass, is a handsome rhizomatous perennial grass that thrives in moist areas and is perfect for wet meadows. Canada Manna Grass Grows to 2' tall & flowers in the summer with numerous ...
---
Common Name: Fowl mannagrass

Glyceria striata, Fowl mannagrass, can be found in marshes, wet banks, damp woods, and occasionally in shallow water.  Fowl mannagrass provides food and shelter to a wide variety of aquatic wildlife.  Glyceria...