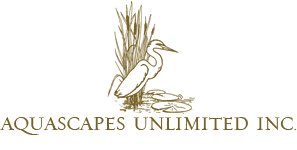 Native Wetland Plants
Native plants are always the best choice for use in landscapes, restoration projects, storm water projects, and naturalized areas. Aquascapes Unlimited's seed sown local ecotype species add natural wildlife benefits, promote biodiversity, and oftentimes require less maintenance in terms of fertilizers and pesticides. Plug trays can be shipped via UPS.
A Wetland Planting Guide is available in the "About us" portion of the website.
Common Name: Copper iris

Iris fulva, Copper iris, has arching bright green leaves growing from shallowly rooted compact rhizomes that can form large clumps.  Copper iris is the perfect plant for moist to wet soils in full sun but also to...
---
Common Name: Blue iris

Iris prismatica, Blue iris, is similar to Iris versicolor except for the narrower leaves.   This hardy lakeshore perennial herb is typically found in shallow waters of pond edges,  sedge meadows, marshes, alon...
---
Common Name: Blue flag iris

Iris versicolor, Blue flag iris, is a hardy lakeshore herbacious perennial typically found in the shallow waters of pond edges, sedge meadows, marshes, along stream banks and in forested moist soil wetlands. Blue flag iris forms...