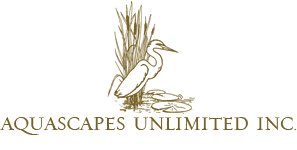 Native Wetland Plants
Native plants are always the best choice for use in landscapes, restoration projects, storm water projects, and naturalized areas. Aquascapes Unlimited's seed sown local ecotype species add natural wildlife benefits, promote biodiversity, and oftentimes require less maintenance in terms of fertilizers and pesticides. Plug trays can be shipped via UPS.
A Wetland Planting Guide is available in the "About us" portion of the website.
Common Name: Bogbean

Menyanthes trifoliata, Bogbean, grows in spongy bogs, marshes and shallow water along pond edges. The fleshy green leaves of Menyanthes trifoliata pop out of the water giving way to a perfect little white flowers with tiny elegant hairs ...
---
Common Name: Monkey Flower

Mimulus ringens, Monkey Flower, produces deep to pale blue to lavender colored flowers with an attractive yellow center. It's named for the flower's resemblance to a monkey's face. The flowers of Mimulus ringens are about an inch a...
---
Common Name: Native yellow

Nelumbo lutea, American yellow lotus, is the only native species of the genus.  Flowers bloom after two successive months of temps  75-85 degrees.   Soft pale yellow flowers 7 - 11" surround a rich yellow center standi...
---
Common Name: Spatterdock

Spatterdock is a member of the native floating leaf aquatic community. Nuphar occurs in quiet back waters along tidal creeks and rivers as well as inland ponds and swamps. It has a oval heart shaped leaves that provide cover and shade for...
---
Common Name: Native white water lily

The Fragrant Water lily is one of the most commonly seen water plants. Its natural range is from Newfoundland to the Great lakes, south including Missouri, and Kansas and down to Florida and Texas. Nymphaea odorata is tolerant of a wide p...
---
Common Name: Sensitive fern

Onoclea sensibilis, Sensitive fern, is commonly found at the sunny edge of a wet woodland. Once established this rhizomatous fern creates wonderfully textured colonies of lime green. A mature plant can spread up to 10" per year with...
---
Common Name: Golden club

Orontium aquaticum, Golden Club, is a striking aquatic plant. Golden Club has bright yellow flower clusters (spadix) at the tips. Blooming in April-June Orontium aquaticum is one of the first plants...