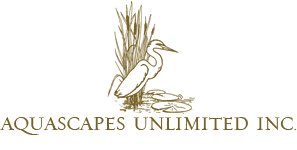 Native Wetland Plants
Native plants are always the best choice for use in landscapes, restoration projects, storm water projects, and naturalized areas. Aquascapes Unlimited's seed sown local ecotype species add natural wildlife benefits, promote biodiversity, and oftentimes require less maintenance in terms of fertilizers and pesticides. Plug trays can be shipped via UPS.
A Wetland Planting Guide is available in the "About us" portion of the website.
Common Name: Blue Vervain

Verbena hastata, Blue Vervain, can be found in a variety if habitats including moist prairies & meadows, floodplain woodlands, moist thickets, along borders of rivers and ponds, marshes, moist basins and ditches. Verbena h...
---
Common Name: Ironweed

Vernonia noveboracensis, Ironweed, prefers rich, moist soils but it tolerates a wide range of soils making it great plant to use in naturalized areas or meadows looking for a subtle dab of purple bloom from its numerous tiny, fluff...
---
Common Name: Wild Rice

Zizania aquatica, Wild Rice, is a native grass found in marshes, pond edges, lakes, and rivers has an extremely branched inflorescence which produces edible grains for humans and wildlife. Although Wild Rice grows 8-10' tall, the s...
---
Common Name: Golden Alexanders

Zizia aurea, Golden Alexander, is a native perennial which is found growing in small colonies in moist woods and meadows, swamps, thickets, riverbanks and prairies. Zizia aurea grows 1-2' tall in nice tight clumps about 12" in diam...