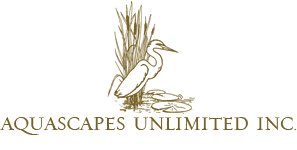 Native Wetland Plants
Native plants are always the best choice for use in landscapes, restoration projects, storm water projects, and naturalized areas. Aquascapes Unlimited's seed sown local ecotype species add natural wildlife benefits, promote biodiversity, and oftentimes require less maintenance in terms of fertilizers and pesticides. Plug trays can be shipped via UPS.
A Wetland Planting Guide is available in the "About us" portion of the website.
Common Name: Swamp sunflower

Helianthus angustifolius, Swamp sunflower, is a narrow leaf perennial sunflower that will thrive in moist soil with full sun to part shade. Fairly inconspicuous fine textured attractive dark green leaves with maroon stems f...
---
Common Name: Ox-eye sunflower

Heliopsis helianthoides, Ox-eye sunflower,  blooms with a multitude of seemingly never ending yellow daisy-like blossoms.   Ox-eye sunflower is native to the Northern Plains grows 2-4' tall and blooms July through...
---
Common Name: Upright Mud Plantain

The Mud Plantain's thick spade-shaped green leaves may be found above or below the water surface along pond margins, mud flats, and marshes. This annual herb has delightfully refined purplish blue flowers from early June to late September.

<!...
---
Common Name: Floating leaf mud plantain

Heteranthera reniformis, Floating leaf mud plantain, has bright green glossy almost kidney-shaped leaves growing on sprawling stems with delicate light blue flowers during summer and early fall. Flowers open about 3 hours after ...
---
Common Name: Swamp rose-mallow

Hibiscus moscheutos, Swamp rose-mallow, is a  fast growing cold-hardy plant.  Striking when grown in colonies in average to moist soil in wetlands, on pond edges and along streambanks. Growing 4-6' tall in full sun, Sw...
---
Common Name: Mare's tail

Hippuris vulgaris, Mare's tail, has the appearance of a pleasant green bottlebrush growing in patches found primarily in the shallow areas of ponds, lakes, streams or any wet muddy shore where water levels fluctuate. The flowers of Hi...
---
Common Name: Pennywort

Hydrocotyle ranunculoides, Pennywort, is a quick colonizer producing a nice thick mass of scalloped 2-inch leaves growing from running rhizomes in full sun to part shade.  Pennywort has relatively insignificant small powder puff...