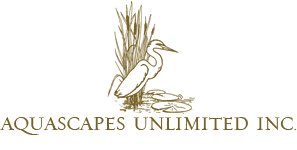 Native Wetland Plants
Native plants are always the best choice for use in landscapes, restoration projects, storm water projects, and naturalized areas. Aquascapes Unlimited's seed sown local ecotype species add natural wildlife benefits, promote biodiversity, and oftentimes require less maintenance in terms of fertilizers and pesticides. Plug trays can be shipped via UPS.
A Wetland Planting Guide is available in the "About us" portion of the website.
Common Name: Canada rush

Juncus canadensis, Canada rush, grows well in swampy meadows, boggy sites, and pond margins.  Growing from 1-2' tall, the inflorescence of Canada rush branches from a single point on the stem from July ...
---
Common Name: Soft rush

Juncus effusus, Soft rush, is a striking perennial wetland plant that grows up to 3' tall in full sun to part shade. The bright green cylindrical stems of Juncus effusus are fairly soft.  Stems taper to a bristle and r...
---
Common Name: Saltmeadow rush

Juncus gerardii, Saltmeadow rush, is a perennial wetland plant that grows on tide lines and along waterways from vigorous rhizomes forming small upright stands just over 1' tall. The rigid stems of Saltmeado...
---
Common Name: Water willow

Justicia americana, Water willow, grows from creeping rhizomes in large dense colonies submerged along the shorelines of lakes, ponds, and standing water. The hardiest of the Justicia species, the Water willow grows 1-2' t...
---
Common Name: Rice cut grass

Leersia oryzoides, Rice cut grass, is a rhizomatous perennial grass growing from 2-4' tall. The leaves of Rice cut grass form a very rough minutely toothed edge that makes it unpalatable to many herbivore mammals...
---
Common Name: Cardinal flower

Lobelia cardinalis, Cardinal Flower, is a relatively short-lived herbaceous perennial that grows in nice clumps from 2-3' tall and less than 1' in diameter. The stems and leaves of Cardinal Flower have a soft purplish tin...
---
Common Name: Great blue lobelia

Lobelia syphilitica, Great blue lobelia, is an herbaceous perennial that grows in nice clumps from 1-3' tall. The upright stems of Great blue lobelia produce a striking blue flower head which creates a wonderful ...
---
Common Name: Marsh Purslane

Ludwigia palustris, Marsh Purslane, is a creeping aquatic perennial that grows along shorelines, in shallow water, and moist soils. The leaves of Marsh Purslane are highly variable in color, from green to slightly red-tin...