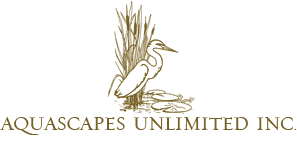 Native Wetland Plants
Native plants are always the best choice for use in landscapes, restoration projects, storm water projects, and naturalized areas. Aquascapes Unlimited's seed sown local ecotype species add natural wildlife benefits, promote biodiversity, and oftentimes require less maintenance in terms of fertilizers and pesticides. Plug trays can be shipped via UPS.
A Wetland Planting Guide is available in the "About us" portion of the website.
Common Name: Sweetflag

Acorus americanus, native sweetflag, has aromatic foliage, similar to Iris in shape, yet unpalatable to geese and deer. Sweetflag spreads moderately from a thick rhizome forming a dense mat along pond shores and stre...
---
Common Name: Water plantain

Alisma subcordatum, water plantain, is a clump forming seed colonizer which thrives in permanently inundated quiet water. Water plantain becomes recognizable early in the growing season with its submerged strap ...
---
Common Name: Big blue stem

The tallest American member of the Andropogon genus, big blue stem, forms sturdy upright clumps of narrow blades standing 6' tall. Andropogon gerardii prefers slightly moist soils but is surprisingly drought tolerant once established. The lus...
---
Common Name: Bushy beard

The only moisture loving Andropogon glomeratus, bushy beard, is usually found growing in low lying marshes and swamps of the eastern coastal plain of the United States. Andropogon glomeratus is a narrow blue/green leaf in the summer followed ...
---
Common Name: Broomsedge

Common in the Northeast, Andropogon virginicus, broomsedge, is a native clumping warm season grass that grows best in relatively infertile soil conditions which makes it a great choice for the dry compacted banks of stormwater basin...
---
Common Name: Swamp milkweed

Asclepias incarnata, Swamp milkweed, is a decorative and essential perennial to any moist full sun habitat, pale pink blossoms explode with color from late June thru August. Standing 2-4' tall Asclepias incarnat...